Hot smoked salmon connects my senses to the wild nature and outdoor life that I love. And it's so easy to make! Throw juniper bushes onto lit seasoned birch logs, add a side of salmon, and watch it smoke.
For the past year, I've taken Niklas Eksted's recipe book [amazon_textlink asin='1910904341′ text='Food From the Fire' template='ProductLink' store='chalkandmoss-21′ marketplace='UK' link_id='1f474d04-c8a7-11e8-800e-2d3813b61a37′] with me on all my travels. It's my guidebook in using nature as a natural seasoning and method. Spending time in wilderness, camping, fishing and cooking on an open fire feed my body and soul. If you've not heard of this master chef, Niklas' restaurant Ekstedt in Stockholm cooks without electricity, instead relying on a fire pit, a wood fired oven and a wood stove. The Michelin starred restaurant has been voted one of the world's best restaurants.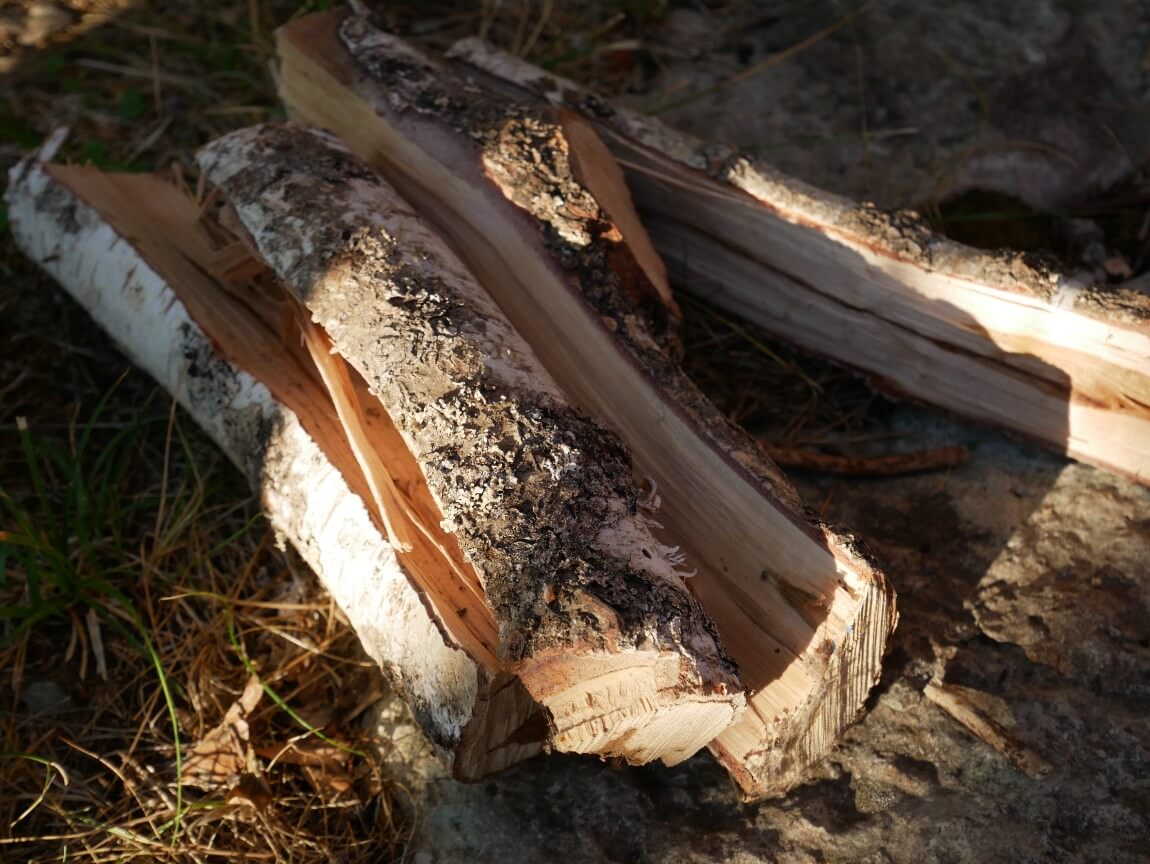 How to make this hot smoked salmon recipe
Campfire cooking has so many possibilities. But you don't need to be camping to enjoy it! We cooked this recipe at our family summer house outside Kalmar in south eastern Sweden. The hot weather fire ban that had just lifted combined with a windy day meant we had to cook at the house instead of the beach. So we built a fire in the garden for our hot smoked salmon. Our house is by an archipelago with forest all around, so there's plenty of juniper to pick. I also collected some hay at the stables down the road for my hay salt (see other recipe further down).
Rather than cooking on charcoal, you light your fire and immediately throw on the juniper bushes and place the salmon on top. You may want to place the fish inside a mesh fish clamp so you remove it easily. It was a joy to cook on our own garden's silver birch that had seasoned in the wood store for three years. The juniper will catch fire and turn to ask very quickly, and the fish only takes about 15 minutes to cook. That's all there is to it! We served it with creme fraiche and freshly grated horseradish, new potatoes, tomatoes from the local farm shop and corn on the cob that we'd picked earlier that day.
Hay salt – nature's seasoning
Whilst not using it for the hot smoked salmon recipe, I couldn't resist also making some hay salt too. This is also from Niklas' book.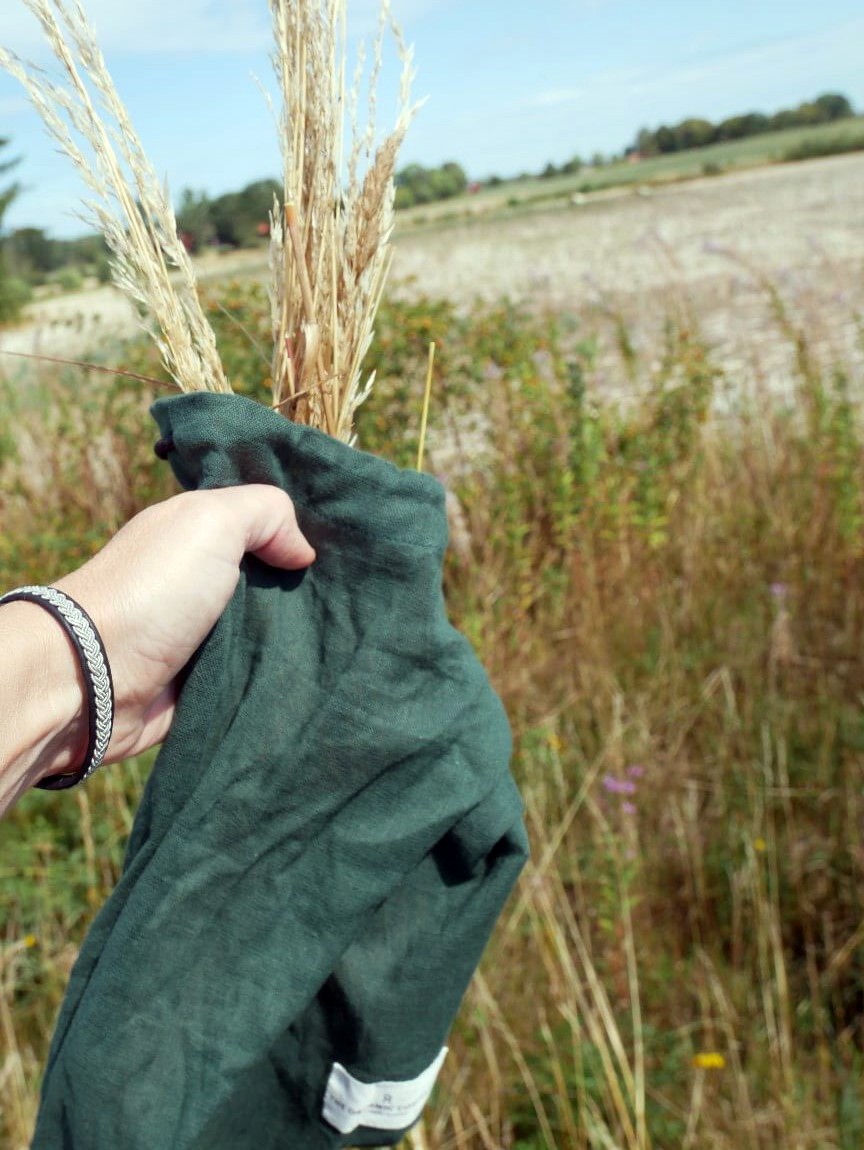 I must admit I'm a little unsure of the difference between hay and straw, and if you can use any straw in the countryside. So anyone in the know, please do post a helpful comment here! Anyway, we survived, so I guess whatever grows near us and is available in the stables is OK! Niklas Ekstedt's advice is to buy organic, untreated hay from a good pet shop.
Put the hay in a pan directly on the fire. It will make the outside of the pot black, so perhaps don't use grandma's best! It will soon catch fire and turn to black dust. When it's no longer burning, remove from the fire, add good quality sea salt and crush with a pestle and mortar. This beautiful nature's seasoning can be used directly on your plate, or used to season food for cooking.
Campfire cooked corn on the cob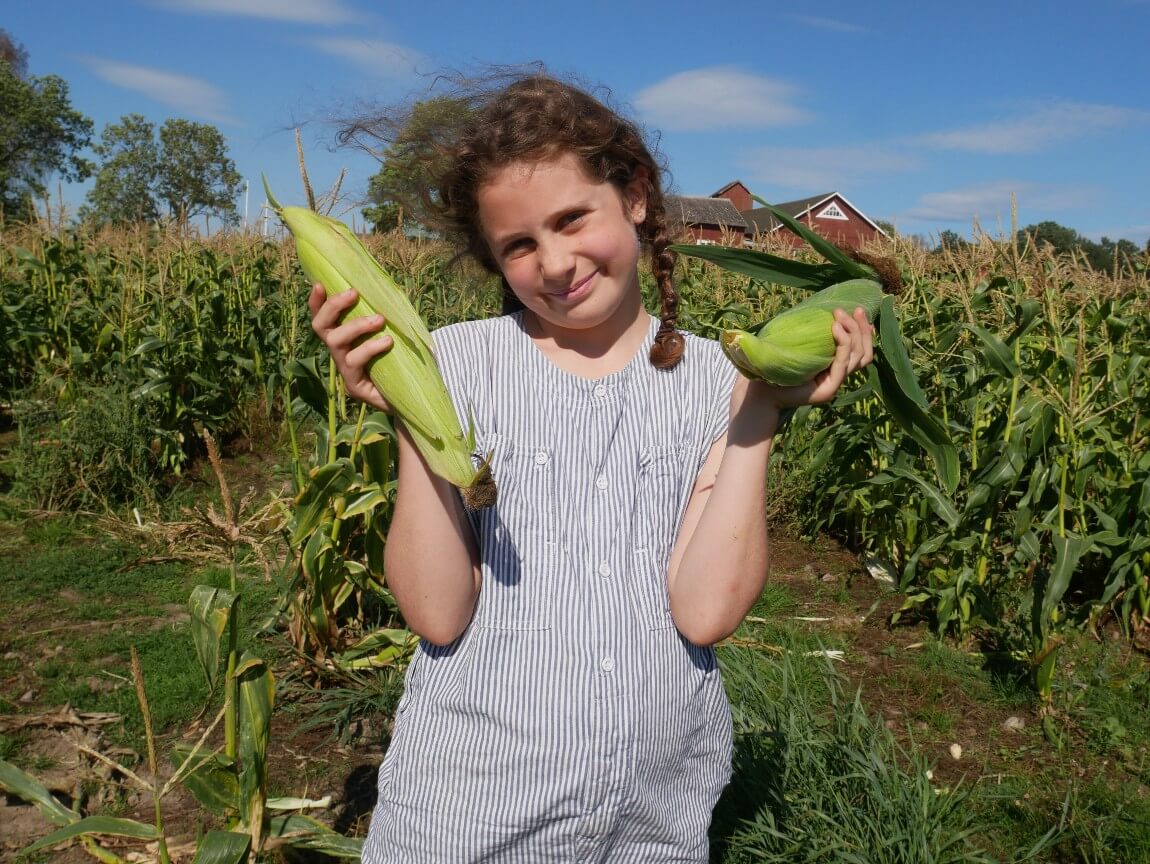 We went to a pick your own sweetcorn farm, which the kids understandably loved! These were also cooked on our beautiful fire, right in their own jackets. It takes about 15 minutes to cook them. They'll become slightly charred, but not burnt as their own sleeves protect them. Serve with butter and sea salt. Bliss!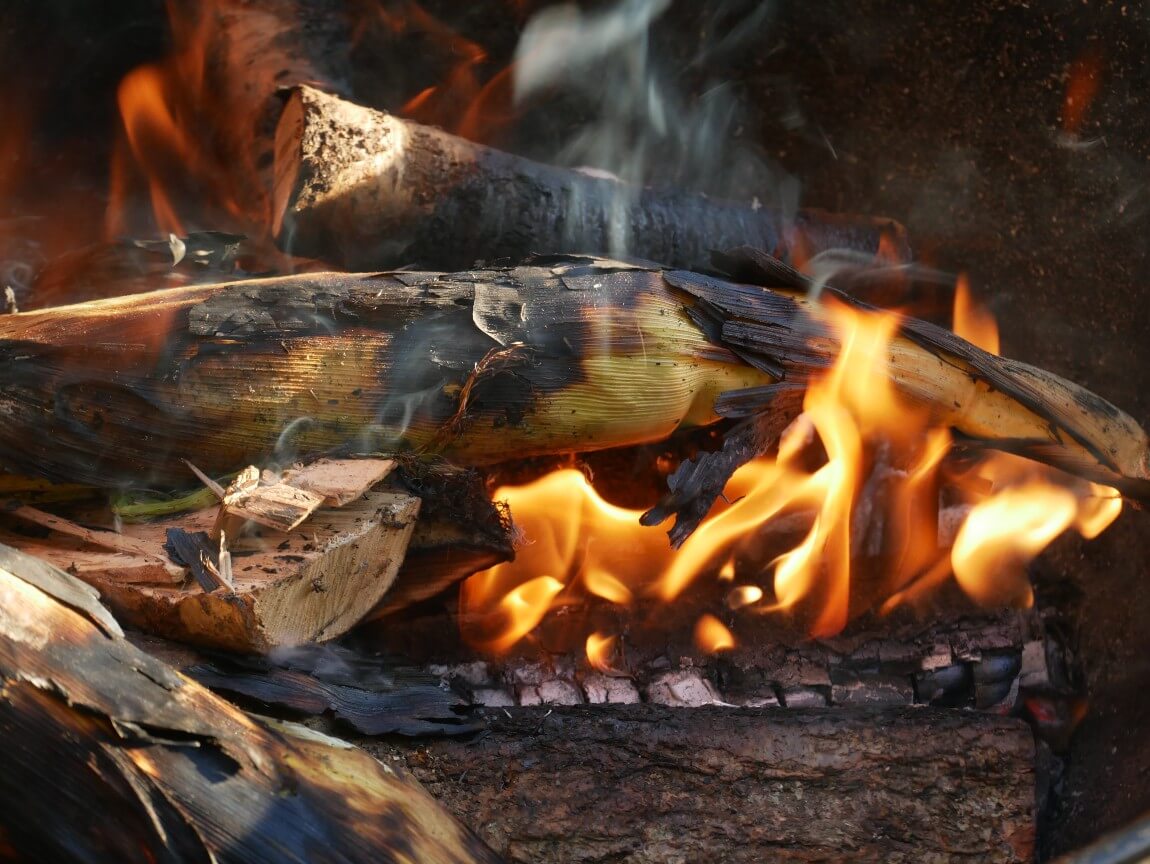 Other campfire recipes in Food from the Fire
A deep need to connect with nature
It was only in my teens that I realised how important nature is to me. When I was 5, my family moved from Sweden to central London, where I spent far too much time watching TV and eating biscuits. When I was 18, I spent my first full winter skiing and snowboarding in the Alps, where I realised how important being outdoors in nature was for my wellbeing. I'm now 42 and the need to be in the wild hasn't changed. Since that season in 1993, I've travelled the globe with outdoor living and spending time in wilderness, woodland and snow firmly on the agenda. This belief in the power of the outside world was my motivation for starting the Chalk & Moss blog and nature connected design shop.
Where to buy Food from the Fire
If you're looking for a hot smoked salmon recipe, or other campfire cooking recipes, I so recommend [amazon_textlink asin='1910904341′ text='Food from the Fire' template='ProductLink' store='chalkandmoss-21′ marketplace='UK' link_id='4fbf72ea-c891-11e8-9ca7-cf0287a3a2f8′]. Published by Pavillion Books, you can buy it here on Amazon: [amazon_link asins='1910904341′ template='ProductAd' store='chalkandmoss-21′ marketplace='UK' link_id='d275a536-c7ea-11e8-9f26-7b398fad889a']
Happy Food –
On the subject of Niklas Ekstedt, I also love his new book, [amazon_textlink asin='1472959981′ text='Happy Food – how eating well can lift your mood and bring you joy' template='ProductLink' store='chalkandmoss-21′ marketplace='UK' link_id='12490aec-c891-11e8-a08f-cb0f345cd34d']. It's a brilliant source of knowledge and inspiration to help our son, who's been suffering long term stomach pain and nausea following antibiotic treatment for pneumonia. Do yourself a favour and buy this book too, you won't regret it!
[amazon_link asins='1472959981′ template='ProductAd' store='chalkandmoss-21′ marketplace='UK' link_id='26d9ef74-c891-11e8-965d-1b08fe5244b3′]