In the midst of hysteria around Black Friday and Cyber Monday, there are some great initiatives out there the likes of Small Business Saturday – initiatives that highlight and support independent retailers and makers.
Us small shops feel the pressure, but simply can't compete with retail giants when it comes to flash sales on the biggest retail weekend of the year. Bargain basement pricing may work if you've got overstock or have priced your items high in the first place. But with independent brands, products are usually priced fairly, with tight margins. So many of us boycott the weekend madness all together, donate proceeds to charity or join anti Black Friday initiatives.
This crazy weekend is not good for our mental state. I find myself drawn to things I perhaps don't need (I usually resist, or am too busy to act on it). And let's not forget the insane waste that results in big sale weekends, encouraging purchases for short-term gain. We should instead purchase with purpose, for longevity, for sustainability. Instead, opt for Green Friday and beyond.
Three small business initiatives:
Taking part in two indie business support initiatives : Just A Card (19-23 November – check #justacard on Instagram and Twitter) and  Small Business Saturday (1st December). Both stand up against the big boys during the big sale weeks, reminding people how important it is to support small and local businesses. We are what breathe life and soul into our communities and the retail space. We create jobs, care about sustainability and give you choices and variety.
Making sure I get plenty of fresh air to keep creative, calm and able to maintain perspective.
Offering 10% off plastic free homewares alternatives, as a reminder to focus on what really matters. You can see the selection below. Click the images link to go straight to the products in the Chalk & Moss shop (you can see the full curated collection here. Enter code GOGREEN at checkout for 10% off (valid until midnight Sunday 2nd December).
A brief interlude before I show you some of the products on offer in this promotion… If you happen to be in or around Brighton, Chalk & Moss is taking part in the following small business pop ups and Christmas markets:
Christmas markets and pop ups in Brighton, Shoreham by Sea and Steyning
Winter Ladyland – pop up at Junction Studio 1 Sydney Street (upstairs) in the Brighton Lanes every Friday-Sunday 30th November until 23rd December. Chalk & Moss is among 15+ independent local designers and brands. Details here.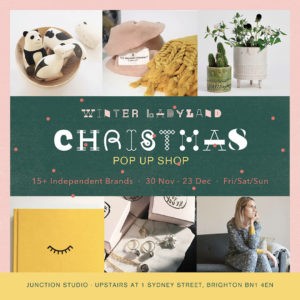 27 Compton Road, Brighton – pop up 30th November – 2nd December. Scandinavian and Brightonian designers of candles, jewellery, leather goods, home textiles and more. Details here.
Steyning Late Night Shopping – Wednesday 5th December. This bustling Christmas market is back this year with the high street closed off for the festivities. There will be indie local crafts, a fair ground, bands and all! Details here.
Light up Shoreham – Friday 7th December, 3.30-8.30pm. The best of local independent design comes to Shoreham for this one evening only event. Details here.
Enter code GOGREEN at checkout. Offer ends midnight 2nd December.
If you miss this offer, you can get 10% off your first order at www.chalkandmoss.com by subscribing to the newsletter.
Above all, I urge you to clear some mental space by logging off your computer, putting your phone away, and getting outside. Go for a walk among the trees, listen to wildlife and draw in the autumn breeze. Then find ways to let nature inside, for example with air purifying plants and homewares in natural materials. As you may have seen on my page about Biophilic Design, our wellbeing increases by a whole 15% if we bring nature indoors.