How to bring nature into your home
Many homeowners are looking for interesting ways to incorporate nature into your home interior scheme. That is, bringing the outside in, to create nature-inspired interiors that exude effortless style.  Chalk & Moss has teamed up with British design studio MissPrint, to look at the ways we can bring the natural beauty of the outdoors into our homes. Recognised for their bold and beautiful collection of eco wallpaper – the unique brand prides itself on sustainability and its entire wallpaper range is PEFC or FSC certified.
 With the trend for Biophilic design and sustainable interiors continuing to flourish, many homeowners are looking for simple ways they can incorporate nature within their interior schemes. By making careful style choices and selecting pieces that evoke strong feelings of the outdoors, a truly beautiful, nature-inspired interior can be achieved.
Breathe new life into your space with houseplants
An obvious choice, houseplants are an ideal way to bring something living into your home.
Often requiring very little maintenance, houseplants allow you to introduce plant life without requiring an outdoor space. This is particularly beneficial to those living in flats or apartments.
With so many stunning varieties and plant species available, homeowners can create a jungle-inspired space that exudes freshness – with leafy greens and lush tones that will add a new lease of life to any space.
From the tall and commanding fiddle leaf fig that would perfectly suit open-plan layouts, to small and subtle cacti that will make a worthy addition to any shelf, there is a plant species to suit all interior schemes.
Create a statement with wallpaper
Wallpaper is an easy way to make a statement; not only does it offer an attractive focal point but it's a quick and easy way to cover up a large surface area whilst adding interest and depth.
For homeowners looking to embrace the outdoors, opt for a bold wallpaper inspired by the world around us. MissPrint's Jungle wallpaper features large shield-like leaves of the tropical banana print in a stunning repeat pattern, this unique wall covering will inject a fun and playful feel into any room whilst evoking a jungle-inspired aesthetic.
Or for a floral twist, Meadow wallpaper with its unique and delicate flowers and intricate linework, can be ordered in a range of vibrant colours for a bold and joyful space.
Homeowners can either choose to create a feature wall by pairing their chosen paper with complementary paint or for more of an impact wallpaper the whole space – the design possibilities are truly endless.
The Perfect Finishing Touch
Even the most minimalist of designs can benefit from some interior styling. An ideal way to finish off a space, soft furnishings or decorate elements can really make a space pop.
Prints for example, are an easy way to embellish a white wall. Not only do they allow your personality and interests to shine through, but they can help to add interest to a space. For customers looking to introduce nature-inspired accessories, opt for botanical inspired pieces – these can be layered together to create a gallery wall or placed individually to make a statement.
Fern print by Dollybirds Art
Alternatively, you can bring nature into the home through textiles, in natural materials or prints – tablecloths, oven accessories, aprons, such as the botanical apron by Softer + Wild, and other linen accessories will add a personal touch that will reflect a closeness to nature. This works especially well in pared-back settings as the pattern from the textiles will perfectly complement a softer, understated interior scheme.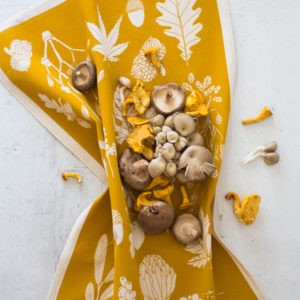 Seen above are the Poppy tea towel and Botanical leaves tea towel in mustard.
We hope this blog has inspired you to approach your interior design scheme in a different way, with elements that capture the essence of the outdoors to create a nature-inspired interior scheme.