Wild garlic recipes – easy, healthy and satisfying
I love spring! Foraging new growth and having fun with wild garlic recipes is a big part of this. You can prepare the leaves in a wild garlic pesto, wild garlic salt, infused olive oil, fold into scones and more. Or just enjoy the vibrant leaves roughly chopped in soups, pasta sauces, egg dishes and more.
Wild garlic – a delicious superfood
Wild garlic is a real superfood that's also a treat for the senses. It's antibiotic, antibacterial and high in vitamin C, A, iron, copper and more. Wild garlic reduces blood pressure, so can help prevent heart disease and stroke.
Preparing a pesto or salt has the benefit of longevity, treating you to its flavour and health benefits all year round. Here I'll guide you through two of my favourite recipes.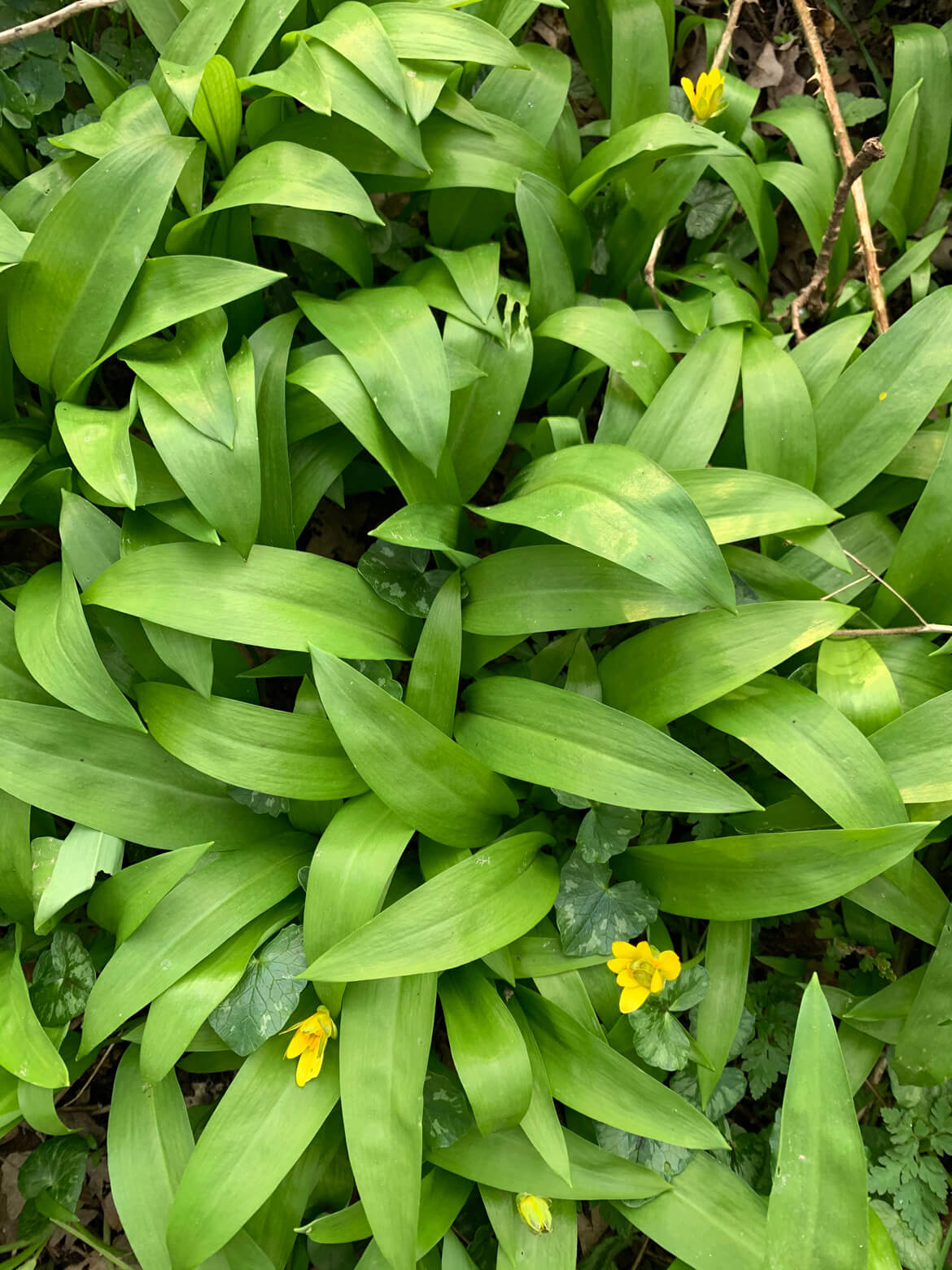 Wild garlic pesto recipe
To make wild garlic pesto, take roughly equal quantities of leaves and olive oil and pop in a blender with a little salt and pepper. Pine nuts or cashews are a great addition if you have them, and a little squeeze of lemon. Blending it makes for a very strong pesto. A milder version is just to roughly chop the leaves and mix with olive oil. This is delicious spread onto crackers as a snack or hors d'oeuvre.
The pesto stores well in the fridge for a few days. Or if you've got lots and want to keep for colder days, make a roll in baking parchment and lay it in the freezer. When the roll is frozen enough to handle, take it out and cut the roll into little slices and separate slightly. Then put it back in the freezer. You can then use bits as and when you need. You could pop the pieces in a bag now if you like.
Wild garlic salt recipe
Another way to preserve the leaves is to make wild garlic salt. The approximate proportions are 100g fresh wild garlic to about 800g salt. For my batch, I used about 650g salt.
Wash and pat the leaves dry, avoiding bringing in the stalks.
Put in a blender (or grind) with 100g salt to make a paste.
Mix the paste with remaining salt and spread out in a thin layer on a baking sheet. Either put this somewhere warm / sunny for 8 hours, or put in an oven on 80 degrees (C) for a coupe of hours.  I kept mine in the oven for 5 hours, taking out occasionally to crumble the salt lumps that formed.
Store the completely dry salt in an air tight jar. There's no expiry date! This is a great addition sprinkled onto scrambled eggs or added as a seasoning to fish, soups and stews.
Wild garlic and cheese scones
My husband pointed out that his friend Molly Midlaine (from @thedarkdarkhouse on Instagram) made some delicious looking wild garlic and cheese scones. She used this recipe from the Farmers Girl Kitchen blog.
Know the foraging code
Note that foraging laws state that you may only pick plants and leaves that grow wild and you may not uproot any plant. Picking must be for your own use, not commercial. Learn the foraging law here on British Food. It's best to pick before the white flowers come out, but you can still pick them later too. When picking the leaves, watch out that you don't accidentally pick Lilly of the Valley leaves. It's easy to tell the difference though, as only wild garlic actually smells strongly of garlic.
Foraging bags
Did you know that Chalk & Moss sells perfect foraging bags? Check out these beauties, hand sewn in Bristol. These great bags are regularly featured in the press and customer reviews are consistently 5 stars.
More wild garlic recipes
If you've found a love of wild garlic, give wild garlic pasta a whirl with this recipe. You'll make your own fresh pasta! It takes only 15 minutes plus an hour to chill.
Keep in touch!
Have you found a good spot to pick wild garlic? I'd love to hear in the comments how you get on! You can tag me with your photos @chalkandmoss