A Unique Look into the Making of ICEHOTEL 2018
Have you seen pictures of the majestic ICEHOTEL in the Swedish Arctic, and wondered how it's made?
This December, Chalk & Moss has been given a unique look into ICEHOTEL 2018. Throughout the 6 week artist project, UK furniture designer/maker and applied artist Hugh Miller along with his brother, architecture and landscape designer Howard Miller, will give us live images and insight as the boutique hotel takes shape! We've just had the first few images arrive from this remarkable adventure! The final and overall scheme will not be revealed until the end, so do be sure to subscribe for updates!
A Majestic Sculptural Project above Sweden's Arctic Circle
Sweden had the world's very first ICEHOTEL, which was and still is located in the small town of Jukkasjärvi, 200km north of Sweden's Arctic Circle. The initiative started as a simple igloo and has developed over the past two decades into the landmark we know today. It was originally inspired by Japanese ice sculpting traditions and continues to be an outstanding art exhibition.
Since 1989, around 20 artists have been invited each year from around the globe to bring their drawings to life in ice sculpture. Applicants do not need previous experience of working with ice, which makes it all the more thrilling. Rest assured though, they have expert guidance on-site.
In the summer months, the hotel's foundations melt back into the river. When the temperatures drop and the wild Torne river slows and changes form, the making of the ICEHOTEL begins. Ice blocks are harvested from the river the previous spring when the ice is at its thickest, and laboriously maintained for the next few months. Each block weighs 2 tonnes, which are made into meter thick walls. The walls are caste into molds using "snice", a mixture of snow and ice. The majority of the water for the hotel comes from the river. The hotel is built with sustainability in mind. In fact, their aim to become C02 negative. You can read more about their sustainability efforts here.
The rooms have a catenary arch shape, which is self-supporting and very strong. They are then filled with snow and ice, ready for the creative work to begin.
And so work on the ICEHOTEL begins
At the end of November 2017 artists, whose drawings won the hearts of the judges, arrived to put their plans into action. Among them are Hugh and Howard Miller.
Hugh kindly let us in on their work:
"Our design is called 'A Rich Seam'. It's based on the idea of digging a mine, finding a seam of ice within the snow, and then continuing to dig to discover more."
The design process for ICEHOTEL
Hugh elaborates:
"We started with a room made of solid snow cast using the ICEHOTEL's special techniques. Our space was 1.8m x 1.8m x 6m in size. We then started to dig. And dig and dig and dig. We removed something like 10 tonnes of snow in the first 2 days.
After we had the basic shaped, we used sharpened spades to carve the interior spaces into rounded caverns. This takes a lot of work and is very tiring, especially the ceiling.
When we had the basic arrangement of spaces dug out, we made cuts into the wall with a chainsaw so that we could install the first piece of column. This ice column is 2 meters high, 0.8m wide, and 1.2m deep. It weighs 2 tonnes, and so we got the support crew to help move it with the tractor.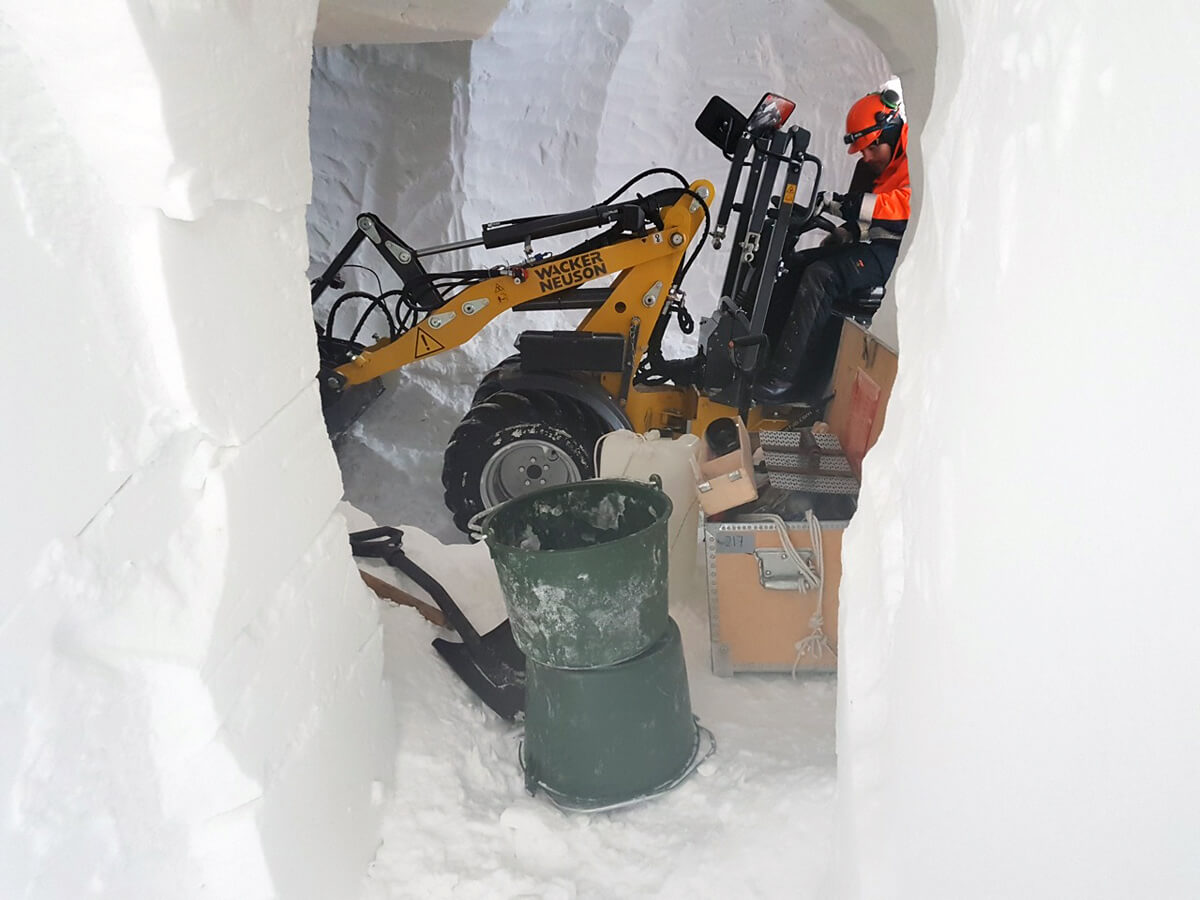 With the main digging done, and the largest piece of ice installed, we could start to add detail to the internal walls. We do this by smoothing the walls with a scrapper, and then using a small chisel to make it look like it is carved stone. It's very time-consuming, but when you see a large wall all in the same texture, it's really nice.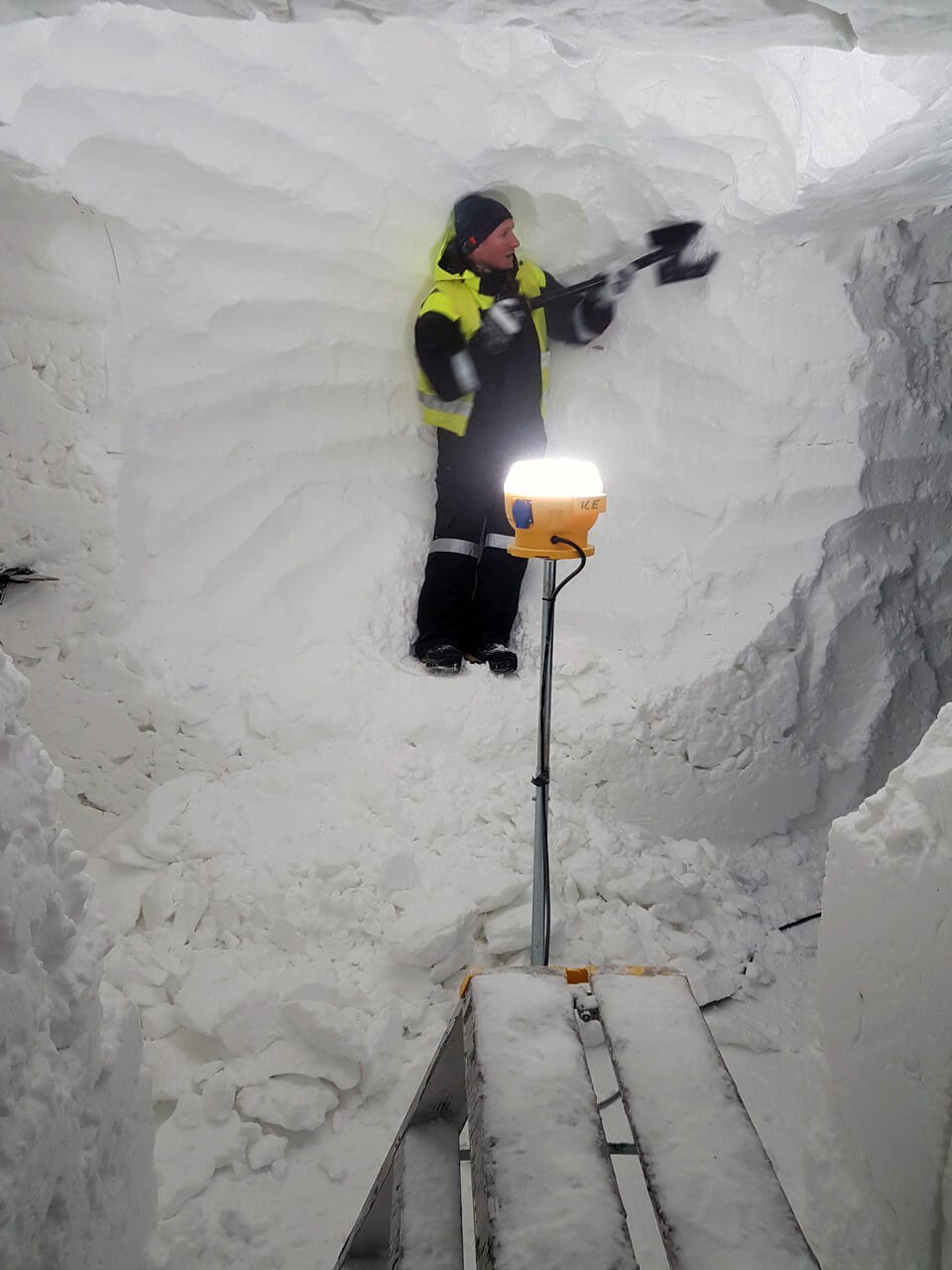 It gets dark very early, around 1.30pm, so it is easy to loose track of time.
In the next few days we will be digging the hole for the bed, smoothing all the walls, and installing the seam of ice. We'll keep you posted with more images!"
As the build is now finished, you can see the final build phase here and the final room schemes here.
ICEHOTEL – Connecting Nature and People, Art and Creativity
Jukkasjärvi means "meeting place by the water". This represents the ethos of ICEHOTEL well. It's regarded as a unique place that connects nature and people, art and creativity.
Since 2016, the unique experience is available all year round, with the new ICEHOTEL 365. This is kept cool using solar power. If you weren't familiar with hotel until now, images from previous years have been included at the bottom (to whet your appetite for what's to come!).
With his vision, founder Yngve Bergqvist's ICEHOTEL has achieved something quite remarkable. To convince people to part with their money to sleep in sub zero temperatures on a luxurious bed of ice. This allows people to experience first hand the feeling of being enveloped in nature through interiors, which is both magical and natural. What better biophilic design (i.e. nature connected design) than a structure that's built from ice, which then becomes part of nature once again when nature says it's time. Connecting with nature through the spaces we inhabit has been proven to drastically improve our wellbeing, creativity, productivity and health.
You can take easy steps to see the benefit of this in your own home or office. If you're curious to find out more, head over to this overview of biophilic design and now you can apply it. You may also like this Norwegian cabin in the woods.
To create a natural Scandinavian quality, add accessories in natural materials such as these cosy homewares or botanical prints from the new Chalk & Moss shop.
Don't miss the next update from the Swedish Arctic – Subscribe to the Chalk & Moss newsletter now!
Photo credits:
Making images: Hugh Miller
ICEHOTEL 2017: Asaf Kliger. © ICEHOTEL www.icehotel.com
ICEHOTEL 2017