I recently learned how to make kokedama balls. I could pretend I've mastered some complicated art, but it was so easy that I feel the need to share the love!
If you're unfamiliar with kokedama balls, this form of bonsai is also known as Japanese moss balls, or string garden. It literally translates as moss (koke) ball (dama). The plant root is inside a ball of soil, covered in moss, and with the plant leaves coming out of the top. Hanging kokedama balls add greenery, texture and interest to your home. As practised in biophilic design, adding natural elements to your interior space is known to increase your wellbeing, creativity and productivity. Kokedama balls are also a great space saver, as these hanging gardens don't take up valuable shelf or floor space. Just hand them off anything that comes to mind (hooks, wall lights, posts…). Importantly, you don't need an environmentally unfriendly plastic container or yet another expensive plant pot. 
Sustainable carpet tile experts Interface hosted a kokedama making workshop during Clerkenwell Design Week, run by plant whisperer and indoor gardening teacher Alyson Mowat. It was a fantastic session, from which we all walked out proudly holding our creations. None of us expected they'd come out looking so "professional".
I've bought several kokedama balls in the past, but never thought make my own (I should know better really – I love crafts, especially involving plants). When making these moss balls or other plant related activities, I can get into a zone, experiencing focus, calmness and gratification on a level akin to mindfulness. (That's not to say I don't also get frustrated when things fall apart!) You can encourage this by focusing on smell and touch, enjoying the texture and earthy smell of the moss, the increasingly sticky soil and the contrasting feel of your chosen plant.
So now, here's how to make kokedama balls…
What you'll need for your kokedama ball:
5 handfuls potting soil

1.5-2 handfuls cat litter

moss to cover the ball (harvest your own, or buy floral moss that you then soak)

a plant – see suggestions below (I used asparagus fern)

twine or string

[amazon_textlink asin='B004HTH1ZC' text='floral pins' template='ProductLink' store='chalkandmoss-21′ marketplace='UK' link_id='606268f8-7faa-11e8-bc93-c9ebb66db859′] (available on Amazon)

scissors

water

spray bottle

newspaper or similar to protect your surface

a bucket

gloves (optional)
Traditionally, you'd use bonsai soil with a heavy clay base, but potting soil and cat litter works perfectly well. So I like to keep things simple!
Do read on beyond the images of the making, as I'll explain what plants to use and how to care for your kokedama ball.
How to make kokedama balls
Mix 5 handfuls of potting soil with 1.5-2 handfuls of cat litter.

Add water to the soil until it reaches a chocolate brownie consistency (careful it doesn't get too wet).

Roll into a hand size ball using your hand. Squeeze as much water out as you can, making a smooth sphere.

Tear the ball in half, being careful the halves don't break.

Take the plant out of its pot, and carefully remove soil until you're left with the roots.

Put the roots into one half of the ball and close it with the other half (like a hamburger).

Smooth the ball over and close the seams with mud. Add more mud if the roots are showing through.

Take a sheet of moss and get rid of dead pine needles and other grit. Soak briefly if it's not already moist. You can take several bits if it's not big enough to cover the ball.

Pin the moss onto the ball using florist pins, watching out to not overlap the moss. 

Twist twine around the ball many times to secure it (tip: twist twine around the fingers of the hand you want to bind with). Then remove the pins. Make a loop about half a meter above the ball to hang it from.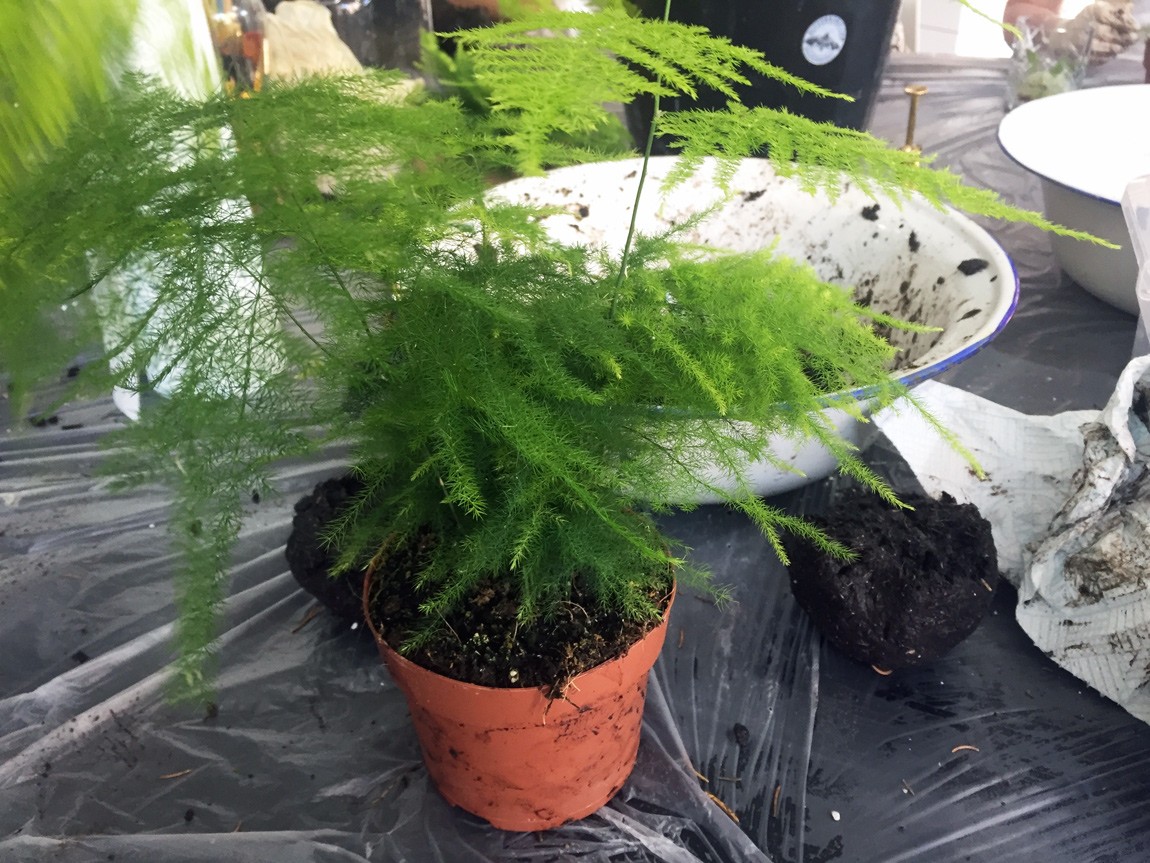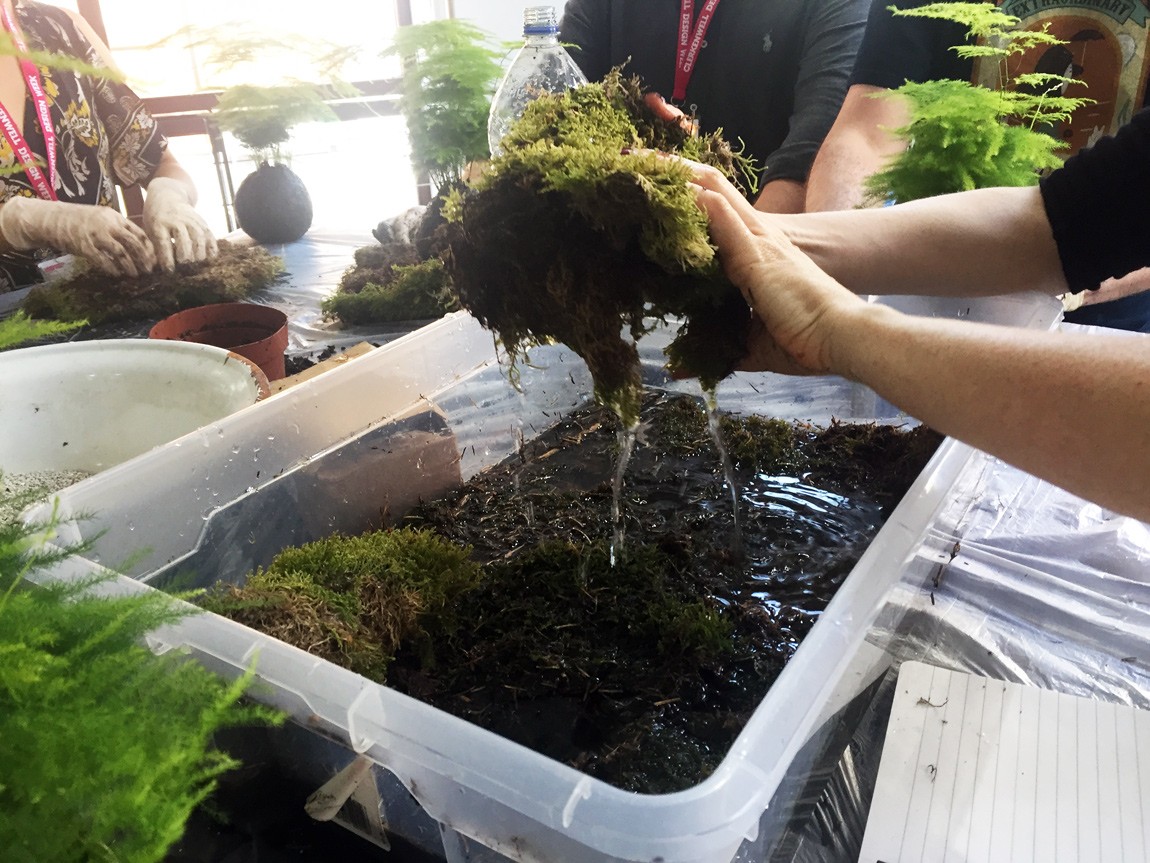 What plants to use and how to care for a kokedama ball
The moss ball should ideally remain moist (although I'm definitely not great at sticking to this). So if you can, spray it every couple of days when it's hot and give it a soak for up to an hour once a week. 
Moss likes shady spots with indirect sunlight, so pick a plant that thrives in these conditions. I usually see them with ferns (bird's nest, maidenhead, staghorn and asparagus ferns look great). I used asparagus fern, which likes a bright room but not direct sunlight. Tropical or hardy plants like ivy also work very well.  You could go with larger plants like spider plants, philedendron and pothos, or colourful begonias. Succulents or cacti aren't ideal, as the ball should remain moist, which these plants won't love you for. If you're making a garden out of them, you can choose several different plants with a variety of leaves and shades. 
You may find this blog post useful on how to care for house plants.
Over to you… and some botanical homeware inspiration
So now you know how to easily make kokedama balls at home alone or with friends! Do let me know how you get on, and ping across photos of your creations.
I've considered running kokedama workshops. So if you're in the Brighton area, let me know if you're interested in this!
Now bookmark this page, pin it, and share the love with your friends! Sign up for the Chalk & Moss newsletter (here) for natural home inspiration, recipes, along with news and offers from the nature connected homeware shop! Explore the shop here to see what botanical and natural homeware delights you might find, like the lovely botanical prints below by Dollybirds Art. The Cheese Plant (Monstera Deliciosa) print is seen in the image at the top of this post.