If you're wondering how to make elderflower cordial, then read on. Here's a very simple yet deliciously refreshing recipe.
Elderflower cordial is a wonderful spring and summer drink. Mix it with your choice of water or sparking water, or jazz it up your gin & tonic, prosecco and champagne with a splash or cordial added!
Cycling down our road today, I was so happy to see that elderflower is finally in bloom! And believe me, I've checked daily.
One little flower holds such strong memories and promises of the summer to come, with gathering of friends for al fresco dining and laughter. Along with wild garlic, sloes and blackberries, it's one of the best and easiest things to forage. Not to mention how good you'll feel being out in nature, picking its wares. I'd say it's a mindfulness practise. And elderflower cordial so incredibly easy to make, it's a wonder more people don't do it!
At the time of first writing this blog post on 15th May, there was just one single elderflower head in bloom. Today 8th June, I've just finished the season's first batch! I would have made one last week when the trees were full of freshly opened flowers, but we were in Cornwall on holiday. But there were still plenty of fresh flowers, so get picking!
How to make elderflower cordial
This recipe makes about 3 litres. You can of course adjust to make a smaller batch. You want to catch the flowers young, when they've just bloomed. If they've gone a bit dry and yellow with flowers falling off easily, the cordial won't taste as fresh.
You'll need:
40-50 elderflower heads
3-4 large unwaxed lemons
2 litres water (ideally filtered)
2kg sugar (you may prefer less sugar, or use fruit sugar, which which case use 1/3 the quantity. Taste your way to your perfect recipe!)
30g citric acid (sold in many chemists)
Then do this:
pick the freshest elderflower heads
get rid of any creepy crawlies
place the elderflowers in a large saucepan that can fit at least 7 litres
scrub the lemons well, then slice them thinly and add to the elderflowers
boil the water, then stir in sugar and citric acid. When the sugar has dissolved, add the mix to the elderflowers and lemons. Put the lid on the pan.
leave this, ideally in a cool place, for 3-4 days
sterilise your bottles or containers by rinsing with neat alcohol (e.g. vodka or gin). You can rinse with boiling water, but it won't be as effective so the cordial won't last as long
sieve the cordial into a bottle, bag or container
add your favourite mixer, give bottles away, share with friends and enjoy your spring/summer!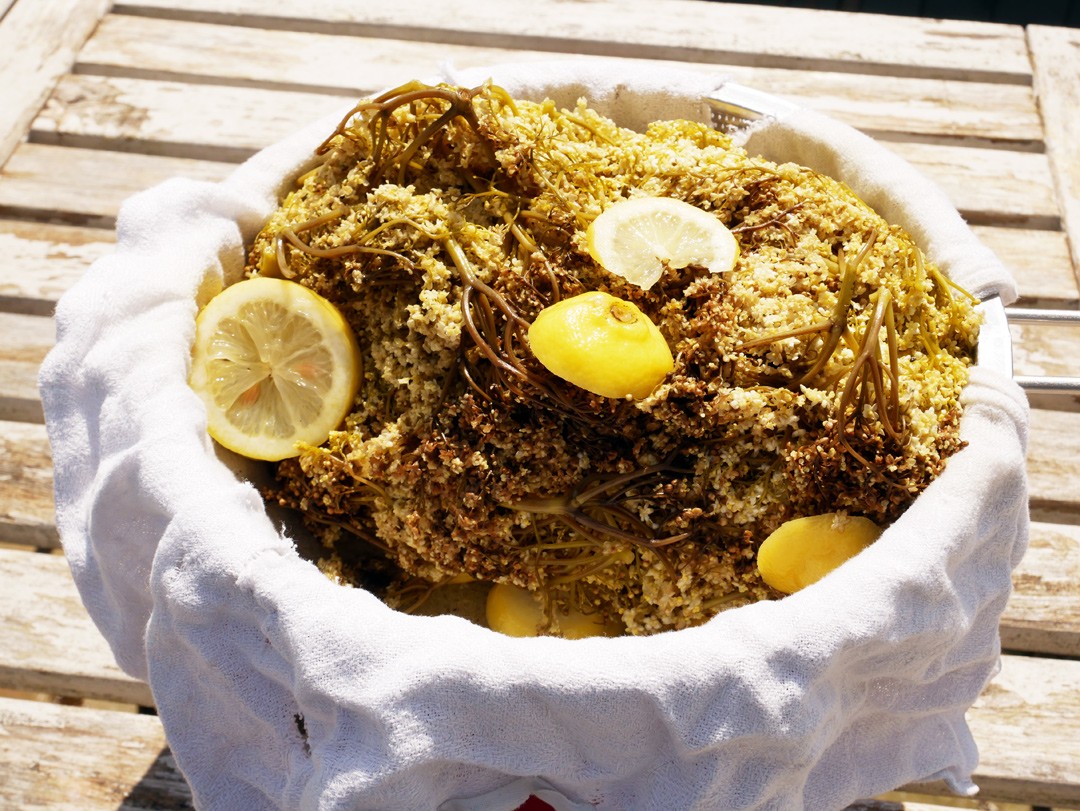 As long as you're careful to sterilise the bottle and fill it right to the top, the cordial will easily keep for a few months or even a year. You can also freeze it in bags or containers (next to your home-made wild garlic pesto!).
So there you have it, summer in a bottle! Never again will you need to wonder how to make elderflower cordial. Bookmark this page, and use it year in year out!
Any questions, please just let me know, and I'd love to hear how you get on. And if you'd like me to write how to make wild garlic pesto, just say YAY!
Chalk & Moss is a nature connected homeware shop and blog. If you like natural living, you'll appreciate the ethically made homewares all natural materials, colours and textures!