You may not be thinking about where to eat in Brighton today. But one day, we'll be allowed out to play again. Or perhaps looking up restaurants is a form of day dreaming in these otherwise Coronavirus news filled days.
Either way, it's more important than ever to support small businesses. One way of course is to eat local food in local indie restaurants.
Where to eat in Brighton – eat local produce at Kindling
I had a smashing lunch at Kindling restaurant in the Brighton Lanes last week, as part of a local bloggers lunch. Today (18th March 2020), they had to make the very tough decision to follow government guidelines and temporarily close due to the Coronavirus. Now I hesitated about the timing of this blog post, but decided to go ahead as I feel it's so important to support them, by spreading the word for when they re-open their doors.
Founders Jane, a nutritionist, and Ramen, are well established in the Brighton restaurant scene. Together, they were the brains behind the infamous Food for Friends. If like me you've been in Brighton since student days, this was a bit of an institution.
They wanted a new venture that focused on sustainability, creating menus with close to zero waste, and local suppliers. Kindling opened December 2019.
Together with host Philip, head chef Holly and the rest of the team, they've created something really quite unique. The environment is a biophilic design dream. Scandi wood cabin chic, plants a plenty, and the menu calls out to eat natural and eat local.
Your eyes are drawn from the beautiful wooden chairs upwards along the plants, hanging like a curtain that continue towards the high ceilings. It's like industrial meets plant filled log cabin, it's just lush. It's a stone's throw from Brighton beach and the shops in the Lanes, so the perfect spot.
The all British taster menu we were treated to included UK grown tomatoes, local wasabi, venison and beef from the Knepp estate re-wilding project (and via the gun shop across the road!), and of course lots of wild garlic. Yes, the wild garlic season is here! (if you're after a foraging bag, check this best seller out). Beef is sourced from Herstmonceux and Ditchling, while lamb comes from Saddlescomb Farm, all in the Sussex area. Due to the rough weather lately, fish is sourced from Scotland rather than Sussex. But not beyond the British Isles.
Locally produced food – the menu
Some of the treats of the day (apologies to my vegetarian friends):
Spiced orange shrub cocktail with prosecco, topped with rhubarb brine and bay oil.
Hispi and horseradish veloute as an amuse bouche, with wild garlic, and salt & pepper almonds
Cauliflower roasted in miso with smoked pepper
Deep fried braun (yes, you read that right, they're all about zero waste so even the pig's head is used)
Ashdown Forest venison haunch, with celeriac, toasted cauliflower leaves and fermented rhubarb
Sadly I had to rush off after the main, so I missed desert :((( (it looked amazing from the photos though)
We've pretty much cut meat out of our diet, but I did make an exception as I wanted the full tasting experience. If and when I do eat meat, I make sure it's from a responsible source. So this place ticked that box.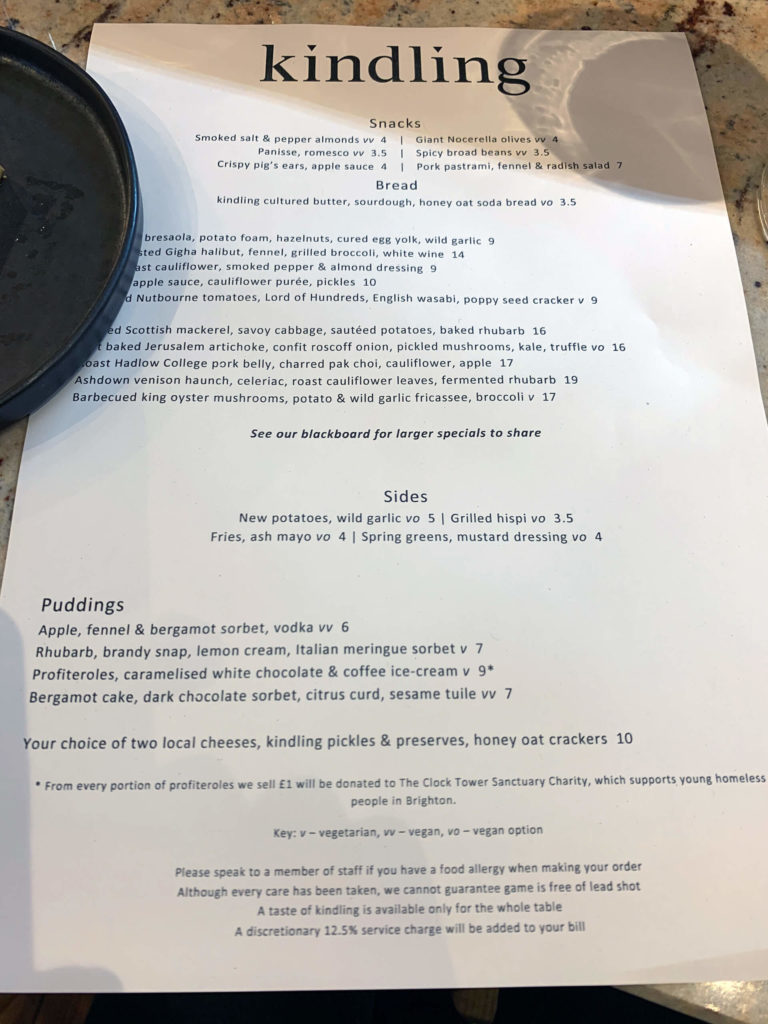 I realise it's a tease posting this restaurant review when you can't visit Kindling right now. But add it to your notes on where to eat natural and local in Brighton for when the time comes. For out of towners, Brighton's got an amazingly vibrant food, drink, music and culture scene.
So when you're next wondering where to eat in Brighton, definitely check out Kindling online and on their Instagram.
Thanks to The Olive Social and Honest Woman for inviting me on this special day!