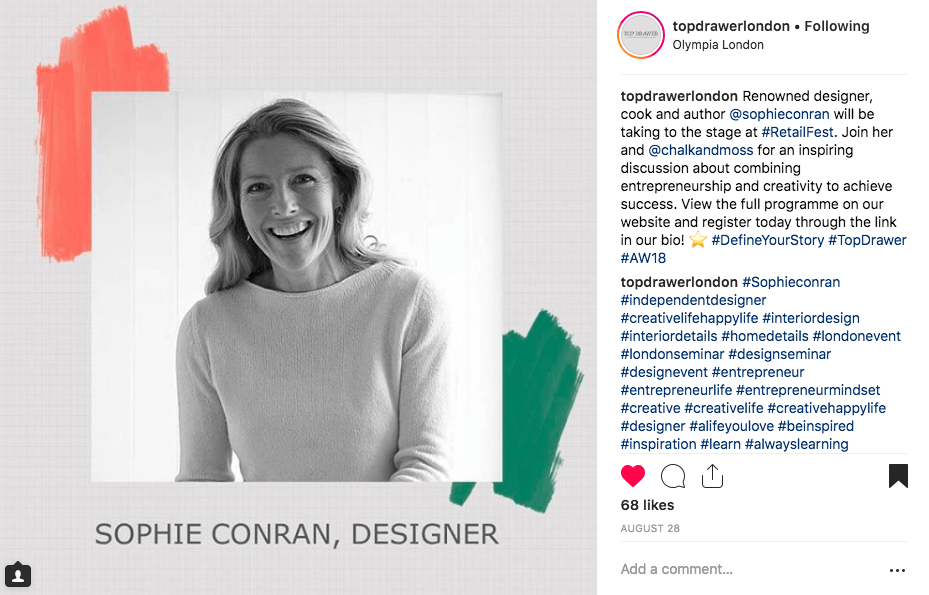 Briefly, I wanted to say how honoured and excited I am at my involvement with this year's Top Drawer London.
On Tuesday 11th, I'm interviewing the interior designer, cook and author Sophie Conran as part of the RetailFest seminar program. I'm very much looking forward to talking  creativity and entrepreneurship in design with her at 12.45pm!
I've also been invited to curate a display on the theme "Nature Connected Design" at Top Drawer, which takes place 9-11 September. I'll write another blog post after the show, sharing my selection on this beautiful theme. For now, I can tell you that the display will include beautiful wool throws, cushions, pure soy wax candles, plastic free homewares, natural journals and more. Find out more about the displays by Chalk & Moss, Heal's, Sophie Conran and Farrow & Ball here on the Top Drawer website.
The theme for this year's Top Drawer show is #DefineYourStory, which also runs through my curated display.
The PaperFest seminar and workshop program at Top Drawer, which includes so many brilliant speakers and topics, is being deliciously curated by stationery designer Abigail Warner. Find her also on Instagram. Abigail writes the following in her feed:
Into the wild – especially selected by the @TopDrawerLondon show director @alex_camposmorales the fabulous Anna from @chalkandmoss has curated an edit of products from exhibitors at @topdrawerlondon showcasing in the #retailfest area – come and get inspired xo
.
NATURE CONNECTED
A calm, Scandinavian inspired look that connects the inside to the natural outside world using plant prints, natural
materials, textures combined with delicate colours.
Mixing wood, leather, wool, cotton with a muted palette and botanics to create this trend for 2019