Vertical Garden planter kit – Small Kit – 3 planters / 1 frame
Vertical Garden planter kit – Small Kit – 3 planters / 1 frame
A small kit vertical garden, perfect for any room. Bring nature into your home with this kit consisting of 3 terracota planters and 1 frame.
(w)460mm x (h)460mm x (d)180mm
Other sizes available.
Quickview

Prints & Stationery

Signed A3 banana leaf print, showing the vibrant Musa Acuminata Painted, printed and hand finished in Belfast by Dollybirds Art. Printed onto thick 300GSM IPS uncoated art paper. Part of the inspiring Dollybirds Art botanical collection, getting you one step closer to nature.

£

25.00
A compact vertical garden that fits perfectly in any room. Easy to care for and does not compromise on style. An ideal living wall starter kit consisting of 3 terracotta planters and 1 frame.
This versatile living wall system allows you to customise the look, with a choice of kits to suit the space and style of your room.
The vertical garden planters are watered from the top for convenience, through specially designed holes and a sloping design that prevents overflow and leaks.
Re-wild your home interior with this vertical living wall; a great step in reconnecting with nature for wellness and harmony. Bringing nature into our homes for wellbeing is at the core of biophilic interiors. Let your imagination go wild! Why not place on in a bedroom with sleep inducing plants like lavender and peace lilies, or create a herb garden in the kitchen. Create your dream nature inspired home.
Every detail in the vertical planter has been thought of, from the beauty of the terracotta planters to the powder coated steel frames.
The planter pot is pure terracotta (the image showing a white front may become available in the future).
Product dimensions – small vertical garden planter kit:
(w)460mm x (h)460mm x (d)180mm
Plants not included (but do look on the details tab for green wall plant suggestions)
The terracotta planters and frames are manufactured by skilful craftsmen in the UK, who create a precise fit in wonderful materials. Note the firing of terracotta creates some natural variation in colour.
Horticus planters are made to order, with a lead time of 6-8 weeks.
Click to see the full collection of vertical garden kits, planters and accessories. Read more about the Horticus planter system and suggestions for plants to use on the About the Designer tab.
Brand
Horticus
Indoor vertical garden kits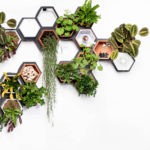 Additional information
| | |
| --- | --- |
| Weight | 7 kg |
| Dimensions | 460 × 180 × 460 cm |
Shipping cost
Please note that if you order products from different designers or brands on chalkandmoss.com, these will arrive in different parcels. 
UK Shipping
Shipping your order within the UK is charged at a flat rate of £5.95. If you spend more than £100, shipping is free! Note, furniture, and bulky or fragile orders may have have an additional shipping charge, and not be covered by free shipping. 
Shipping for furniture must be calculated according to each order. So to avoid incurring an additional charge after you've made a purchase, I suggest contacting me first for an accurate quote on [email protected] 
The delivery method varies, depending on the product and quantity you buy. 
International Shipping
If you'd like something delivered outside the UK, do drop a line here and we'll arrange this for you.
A flat rate shipping cost will show on checkout. However, large or delicate orders will incur an extra shipping cost after you place your order. You'll have the right to cancel your order at that point, if you're not happy with the additional cost. 
The flat rate generally applies to lighter items and are as follows:
Mainland Europe: £12.95
North America: £25
Please drop us a line before you place your order on [email protected] We'll give you an accurate shipping cost (which could be less or more than the flat rate) and take you through the order if you'd like to go ahead, thus avoiding an additional charge post order. 
Customs
Please note; you may be charged for local import duties and customs charges on the arrival of the goods in your country, outside the UK. This is out of our control and you are responsible for paying any such charges. 
Delivery & Details
Horticus planters are made to order. The standard lead time is 6-8 weeks at most. However, Covid lockdown has led to a 12 week lead time until early 2021. 
They are sent via UPS, with a 3-5 day turnaround time once shipped.
If you're ordering the large or extra large kit, please contact us for an accurate shipping cost before ordering. Otherwise we'll contact you afterwards and let you know what the additional charge is on top of the standard shipping Chalk & Moss fee.
Note: Planters may vary slightly in colour and dimensions, due to the unique nature of the terracotta and its behaviour during a firing process.
If you order items from different brands on chalkandmoss.com, they will arrive in different parcels.
If something is marked out of stock, please get in touch to reserve it.
I'm happy to arrange international shipping upon request. Please contact me for shipping costs. 
Your order will be sent directly by Horticus (who receives your name and address), as instructed by Chalk & Moss.
Standard Chalk & Moss returns policy applies.
Living wall plant recommendations:
These plants recommendations are based on brightness levels your windows can provide. Please bear in mind that climatic conditions in every house vary, so if you your home gets rather warm, especially during winter, don't forget to spray your plants to keep the dry air at bay. Grouping plants together helps with reducing water loss from the leaves and maintaining better humidity.
Bright light (ie direct sunlight):
Succulents Hibiscus Bridal wreath (Stephanotis)
Geranium Passion fruit (Passiflora)
Chinese money plant (Pilea Peperomioides)
Spiderwort (Tradescantia)
Mistletoe cactus (Rhipsalis)
Silver inch plant (tradescantia zebrina)
Filtered light:
You still get good sun rays, so the room is bright, but the sun is not direct, scorching the leaves.
Begonia Rattlesnake plant (Calathe lancifolia)
Orchids Monkey Jars (Nepenthes)
Hoya (Hoya liniaris)
Lady's purse (Calceolaria)
Button fern (Pellaea)
String of pearls (Senecio rowleyanus)
String of hearts (Ceropegia woodii)
Light to full shade:
Spider plant (Chlorophytum comosum)
Strawberry begonia (Saxifraga stolonifera)
English ivy (Hedera helix)
Maidenhair fern (Adiantum capillus-veneris)
Asian saber fern (Polystichum neolobatum)
Royal fern (Osmunda Regalis)
Cast Iron plant (Aspidistra) – Will tolerate a certain level of neglect.
Bird's nest fern (Asplenium nidus)
Sword fern (Nephrolepis exaltata)
Mosaic plant (Fittonia)
Aluminium plant (Pilea cadierei)
About the Designer - Horticus
Living room wall garden, kitchen allotment, green bedroom oasis, steamy bathroom jungle. Make any room a living habitat.
Unearth the possibilities
A flexible vertical living wall system that can grow in keeping with your demands. Define the size and layout of your vertical garden according to your preference.
Select from pods with different functions and create endless combinations to suit your space and environment.
Everyday encounters
Horticus planters offer ample room for roots and can be watered from above through a grid of watering holes.
The frames allow for the pods to be lifted in and out. Great when it comes to re-potting, routine maintenance or a simple spring airing.
Terracotta and steel
Horticus pods are made from terracotta. Natural, porous and earthy it's beautiful and great for plant roots. The frames are powder coated steel, strong and resistant to rust.
Both materials provide beautiful contrast to plants and will complement all colour schemes.
The pods and planters are made in the UK by skilled craftsmen.