Mintie DUO stainless steel lunch box with compartments
Mintie DUO stainless steel lunch box with compartments
Mintie Duo stainless steel lunch box set with compartments – BPA free eco metal packed lunch box set with compartments. Comes with snack pot silicone band and a cotton lunch bag. Lunchbox for kids, tiffin box, salad lunch box sandwich container. Size 17cm x 13cm x 5cm.
Quickview

Bags, lunch boxes & bottles, Outdoor accessories, Wellbeing

Mintie Snug - Leak proof stainless steel lunchbox set with a moveable & removable divider - ideal for all your lunchbox and food storage needs. Perfect for lunches on the go, picnics & snacks. Made to transport your delicious eats safely wherever you may be travelling. 1.2 litre capacity for fruit, veggies, protein, left-overs, salads, sandwiches - the options are endless. Size: 18.5cm x 13.5cm x 5.5cm (unboxed) Capacity: 1.2 litres

£

26.50
Stainless steel lunch box set with compartments – Mintie Duo
Free from BPA and other plastics
Food grade 304 stainless steel
Dishwasher safe and freezer safe
Durable and built to last
Reduces landfill waste
100% recyclable
Size 17cm x 13cm x 5cm
Mintie Duo – Stainless steel lunch box set with compartments is the perfectly proportioned lunchbox and food storage solution for all those lunches on the go, picnics and snacks. Lunchbox for kids, tiffin box, salad lunch box sandwich container and more! Made to transport your delicious eats wherever you may be travelling. Mintie can be packed full of fruit, veggies, protein the options are endless. With its 1 litre capacity it is big enough to hold a sandwich and sides or a stir-fry and sauce but compact enough for smaller diners to carry and open too. This is the perfect lunch solution which will keep your food fresh, safe and beautifully presented at all times. No need for additional cling film, food wrap or foil, reducing waste and exposure to plastics.
What's in the box? Stainless steel lunch box set with compartments
Each Mintie Duo comes with:
1 litre capacity stainless steel lunch box split with a divider for convenient meal segmenting. The divider is fixed in place and is made from stainless steel.
1 handy snack pot for hummus, dips, fruit, nuts, sauces etc.
No room for your daily fruit in-take in the box? No problem Mintie Duo comes with a neat cotton drawstring bag to perfectly accommodate your apple, banana or other fruity choices or indeed to carry your Mintie lunchbox in as well.
A green silicone Mintie band is included to secure your cutlery if needed.
Each Mintie Duo comes with a 1 year guarantee but if you look after your lunchbox it will last you for many, many years to come. If the day comes you no longer need Mintie it can be fully recycled. Dishwasher and freezer safe. It's metal so do not put it in the microwave.
Brand
Mintie
Stainless steel lunch boxes and water bottles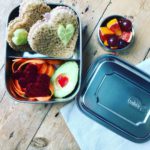 Additional information
| | |
| --- | --- |
| Dimensions | 17 × 13 × 5 cm |
Shipping cost
Please note that if you order products from different designers or brands on chalkandmoss.com, these will arrive in different parcels.
UK Shipping
Shipping your order within the UK is charged at a flat rate of £5.95. If you spend more than £100, shipping is free!
Please note that shipping for furniture must be calculated according to each order. So to avoid incurring an additional charge after you've made a purchase, I suggest contacting me first for an accurate quote on [email protected]
The delivery method varies, depending on the product and quantity you buy.
International Shipping
If you'd like something delivered outside the UK, do drop a line here and we'll arrange this for you.
A flat rate shipping cost will show on checkout. However, large or delicate orders will incur an extra shipping cost after you place your order. You'll have the right to cancel your order at that point, if you're not happy with the additional cost.
The flat rate generally applies to lighter items and are as follows:
Mainland Europe: £12.95
North America: £25
Please drop us a line before you place your order on [email protected] We'll give you an accurate shipping cost (which could be less or more than the flat rate) and take you through the order if you'd like to go ahead, thus avoiding an additional charge post order.
Customs
Please note; you may be charged for local import duties and customs charges on the arrival of the goods in your country, outside the UK. This is out of our control and you are responsible for paying any such charges. 
Delivery & Details
Delivery & Returns:
Orders will be sent via Royal Mail.
Note: If you order items from different brands on chalkandmoss.com, they will arrive in different parcels.
If something is marked out of stock, please get in touch to reserve it or subscribe to a back in stock notification.
I'm happy to arrange shipping outside the UK upon request. Please contact me for shipping costs before placing your order.
Your order will be sent directly by Mintie (who receive your name and address), as instructed by Chalk & Moss.
Standard Chalk & Moss returns policy applies.
About the Designer
Environmental Life, the makers of Mintie, aim to help people to make choices that are kinder to the environment by reducing household waste and the use of plastic and chemicals. They are a small, family run business with goals to reduce the plastic we are using and throwing away each day and to feel more confident that the food that we eat is stored in a way that reduces our exposure to BPA's and other associated toxins. At Environmental Life, they are passionate about what they are doing. They want to provide people with an honest product, that is safe, reusable, durable, long lasting and has minimal impact on our world.
They are a family with two rather wonderful and springy children. These were the motivation behind Mintie. Packing up lunches each day they noticed not only how much plastic wrap and foil they were using but how the plastic boxes storing their foods in would often warp, smell kinda funky over time and always break. They had also started to read more and more about the the exposure to plastics and the potential harm they can do to us all.
Searched the market, they couldn't really find what they were looking for. They wanted something of a lunchbox solution for children and big kids alike that was well made, durable and didn't break the bank. It should encourage people to make a balanced meal with interesting ingredients and keep them fresh until eaten. ​
In order to guarantee no transfer of man-made toxins to the food with prolonged use, it could only be made from glass or stainless steel. Glass was ruled out for the reasons of weight and fragility.
The stainless steel products on the market didn't seem very child friendly and by the time you have added the extras needed for a complete set, rather expensive.
So they decided to see if we could do it themselves. They designed the kind of product they wanted and engaged with a number of suppliers to find the perfect package. They feel that the first offering from the Mintie brand meets their brief but over time they will refine it until it is perfect.
They have always been a bit of a pair of "Eco Warriors," or maybe more accurately  "Eco Worriers" – knowing that stuff should be done differently but not really knowing where to begin. Making small changes like what we store our food in is a good step to making less of an impact on our precious world and also caring for our inner eco systems by reducing the exposure to chemicals each day.