Record snow falls this Christmas gave us a magical experience skiing and cross-country skiing in Sweden!
Born in Stockholm and growing up in the UK, I return to Sweden every summer and winter to catch up on the outdoor sports that I so miss. This year served opportunities like rarely seen before!
We started with a week visiting my family in Uppsala, followed by a week skiing in one of Sweden's main resorts, Sälen. This is about a 5 hours drive north of Uppsala, or 6 hours north of Stockholm. Sälen had record snow fall this holiday season, so our timing was perfect! It's located in Dalarna county, where the iconic red and floral wooden horse "Dalahäst" or "Dalecarlian Horse" comes from.
What makes these trips so special for me, is going back to experiencing silence. It's not necessarily completely silent around me, as I can hear the trees creaking, water from a stream and perhaps even the bustle beyond. But Nordic skiing surrounded by fresh snow and seeing the sun find its way through the trees give me a silence within that restores energy and calm. Norwegian Polar explorer Erling Kagge says in his book 'Silence in the Age of Noise',  "The silence that I am after is the silence within […] For me, silence in nature is of the highest value. That's where I feel most at home. Still, if I hadn't been able to experience stillness amid city life, my longing for silence would be too great and I would have needed to return to nature more often" (page 27). People may find this silence within in many ways, perhaps from yoga, running or knitting. For me, it's moving in snowy woodland and skating across frozen lakes.
If you're interesting in experiences of silence created by Norwegian explorers, do also read this post about a unique wood and glass cabin suspended above water, high above Norway's Arctic Circle. The Manshausen Island Resort was developed by Erling Kagge's friend and fellow explorer Børge Ousland.
Cross country ice skating in Uppsala, Sweden
The snow did not fall on Uppsala to the same extent as Sälen. But the ice on the lake just outside Uppsala, near Sweden's largest lake, Mälaren, was better than it had been in years. So we enjoyed cross-country ice skating in the Fjällnora nature reserve – one of my all time favourite activities! It's such a unique experience to skate for miles along the beautiful woodland scenery. Having fractured my coccyx many times during years of snowboarding, I find regular ice skating quite nerve wrecking. But cross-country skating is so much easier, due to the long, steady blades and comfortable hiking style boots. It's also known as Nordic skating or long distance skating. Skates and cross-country skis are available in the well stocked chalet by the lake, also serving up excellent food.
Parked up at Fjällnora was Uppsala's mobile preschool! This bus takes their nursery children around different nature spots for learning through outdoor play.
Skiing and Cross Country Skiing in Sälen, Sweden
I used to think cross-country skiing was lame, and just for old people. Then I moved to Montreal and had Mount Royal on my doorstep. At the weekends, we used to head for Jay Peak in Vermont to snowboard and ski, but other days we needed something closer to home. That's when we discovered the unique and utterly serene feeling that cross-country skiing brings you. It's just you, the snow, the trees and the sounds these elements create. Hooked on serenity and near silence, we explored remote corners like Gatineau National Park in Ontario. Since that time and back in Europe, we now split our time between the fun-filled but manic ski hills and the calm of cross-country skiing in the forest. So a snowy week skiing this Christmas in Dalarna, Sweden, with ski lifts out the front door and cross-country trails out the back gave us the hit we so needed!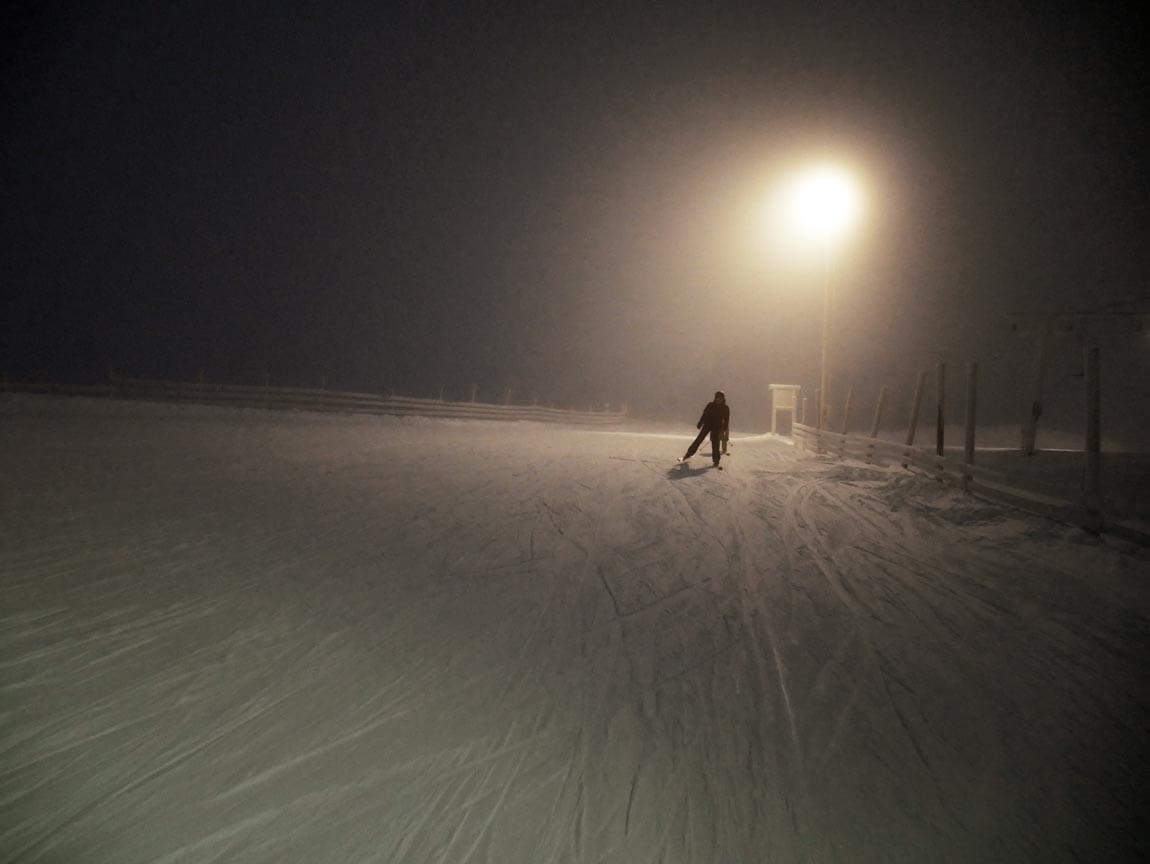 I can't recommend enough that you try skiing and cross-country skiing in Sweden. If you're a snow fanatic like me, I'd love to hear what feelings you get when moving through glistening snow. What is it that's so special for you?
If you're looking for  a magical winter holiday, do consider skiing in Sweden. If you're after a family holiday, it's a no brainer. You can find out more about Sälen and other Swedish ski resorts on the SkiStar website. I'm happy to give you tips, so leave a comment here or on social media (@chalkandmoss on the usual channels).
If you enjoy winter magic, click here to read out about winter solstice and the kitchen textiles collection from the Chalk & Moss shop, named after this special celebration. Don't feel down about the cold and lack of light. Instead turn this into a cosy moment with cheerful textiles and scented candles.